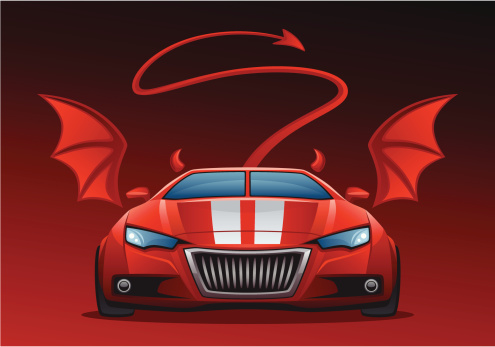 Have you ever been pulled over for speeding only to notice cars passing you at a speed noticeably higher than the posted limit?  Frustrating, isn't it.  Speeding seems to be an ongoing epidemic on our roadways, difficult to control and impossible to stop completely, even with hefty fines. Speeding is one of the most prevalent factors contributing to traffic crashes in the U.S.  According to the National Highway Traffic Safety Administration (NHTSA), speeding accidents occur when a driver has been racing, driving too fast for conditions, or exceeding the posted speed limit.  Just because your car is fully equipped with the top of the line safety gear or your speedometer indicates that your vehicle has the ability to handle over 90 mph, doesn't mean you should test either one.
A Driver Profile: The Speeder
The age old question is "Why do drivers speed even though they know it's dangerous and illegal?"  It's fair to say that all drivers have sped at one time or another, intentionally or unintentionally.  You're out on the open freeway, in the middle of nowhere.  There are no cars or people for miles around or so it seems.  Even on those desolate stretches of highway, a patrol officer may find you and ticket you for driving above the posted speed limit.  Your excuse may vary, depending on what kind of driver you are.  If you are a thrill seeker, infamous for rarely driving the speed limit, who loves the feel of a dangerous high speed, you probably don't have a valid excuse (or even attempt to make one) when you're caught by the highway patrol.  If you consider yourself a law abiding, rule following driver, you most likely use the cruise control on long stretches of road and only speed when you are lost in the moment of the beautiful scenery or lost in the chapters of an audio book.
Despite numerous images and stereotypes, there is no particular driver who speeds.  Sure, there may be some truth (and coincidence) that a young driver, who navigates a sporty red car, has higher rate of speeding violations than the older driver who drives below the speed limit because his eye sight is failing and his car might be older.  But when you stick to the speed limit, while driving, watch the people passing you and you may be surprised by your observations.  Speeders are young and old, male and female, and drive luxury cars and clunkers. (Note: Don't get too immersed in your observations; keep your eyes on the road).  Drivers, who are full of excuses and hard to change behaviors, are more likely to be involved in a speed related crash.  Drivers speed for numerous reasons, including but not limited to:
Drivers are in a hurry, rarely leaving extra time for traffic, weather, or other factors
Drivers are inattentive to their driving.  Many are too distracted to pay attention to the primary task of driving while other drivers spend so much time behind the wheel that they almost become "robotic", unaware of their driving habits and behavior.
Drivers have the "Mightier than Thou" attitude.  They don't take traffic laws seriously or they don't think the laws are applicable to them.  Traffic laws do not offer exceptions.
Dangerous drivers rarely notice or admit to dangerous driving.  Chances are, if a driver knew that their driving was problematic and potentially fatal, they wouldn't take such risks.  Our roadways are full of drivers in a state of denial.
Stop the Speeding Before it Starts          
Sometimes sharing the facts, can offer as a scare tactic or encourage drivers to change dangerous driving behaviors.  According to NHTSA, speeding is one of the most dangerous driving habits to have.  Not only does speeding increase the risk of an otherwise preventable accident, but speeding:
Reduces a driver's ability to steer safely around curves or objects (similar to the navigational skills of an impaired driver.
Extends the distance required to stop a vehicle in emergency situations (such as a car braking in front of you or an animal or pedestrian who ran onto the road).
Decreases the effectiveness of safety restraints such as airbags and seatbelts.
Increases the probability of death over speeds of 50 mph.
Makes it difficult for other drivers to judge how fast you are driving.
So, what happens when the facts aren't enough to change the horrible habit of speeding?  That's when the authorities step in and try to make some changes with the help of tools like speed cameras.  In large cities, where law enforcement is already delegated to other areas, speed cameras are a valuable tool to monitor speeding while taking care of the problem.
In an attempt to cut down speeding and potential accidents in Chicago, speed cameras were installed as a "practice run".  In just 40 days of monitoring, the cameras, located throughout different areas of the city, caught 204,743 speeders.  Over 77,000 motorists were caught driving at least 11 mph over the speed limit while over 126,000 drivers were going between 6-10 mph over the speed limit.  If the city would have handed out tickets, rather than warnings, the total collection would have equaled $12.2 million.  While currently there is controversy whether or not Chicago will enforce ticketing via speed cameras, it's clear that speeding is a problem.
Speeding kills, it's bad for your car, it's dangerous to your health, it makes our roadways more dangerous, and it rarely gets you from point A to point B any quicker.  If you have a "lead" foot, consider changing the way you drive.  Slow down, enjoy the scenery, save some gas, and nothing else changes your behavior, think of all the cash you'll save by not paying the hefty fine of speeding ticket!