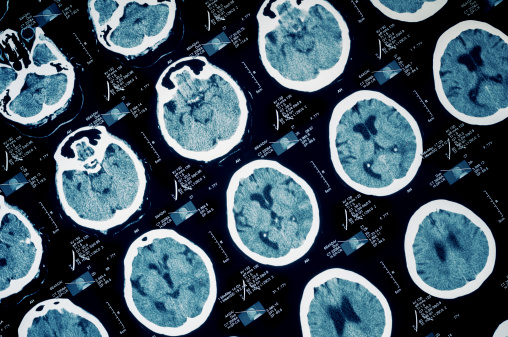 When a person is the victim of a traumatic brain injury (TBI), his brain's nerve cells become damaged. The normal process of information transfer between brain cells changes, and sometimes it stops altogether. Since the three primary areas of concern with TBI victims include emotional, cognitive and physical development, the injury can result in a noticeable shift in the person's overall behavior and motor skills. But not all people experience the same symptoms.
In order to understand how a traumatic brain injury may impact the life of a victim and those around him, it's necessary to first understand the basics of how the brain is divided, and the function of each section. The information is important because the type of challenges the victim will face will depend on the location of the injury.
Left or Right
The brain has two hemispheres, or halves. For 97% of people, the left half of the brain houses logical and verbal functions, such as writing, speaking, listening, and reading. The right half of the brain is where intuitive and nonverbal functions originate. These can include recognizing patterns (visual and oral) and understanding and expressing emotions.
So, a person who suffers a TBI in the left hemisphere may have difficulties with language and communication, while someone who has a TBI in the right hemisphere may face challenges with interpretation, orientation and organizational abilities. This information serves as an excellent starting point in our effort to understand how the location of a traumatic brain injury will impact a person's abilities and behavior. But, it's not exactly as clear cut as that, because the brain is divided even further.
Six Regions
In addition to the split halves, the brain is also comprised of six areas, each with its own purpose and functions. The areas do work in coordination with one another, however, with some functions being supported by multiple regions. The six sections of the brain are as follows:
Brain stem: swallowing, heart rate, balance, site and sound reflexes, alertness level, body temperature, blood pressure, sweating, digestion.
Cerebellum: voluntary movement coordination, equilibrium, reflex motor memory.
Frontal lobe: awareness and initiation of activity, judgments, emotional and expressive control, word association, reasoning, abstract thought comprehension, motor activity memory.
Parietal lobe: perception of touch, focused voluntary movement, integration of senses.
Occipital lobes: vision
Temporal lobes: hearing, certain visual perceptions, classifying objects, emotion, processing of verbal data, memory.
Emotional Changes
As evidenced by the list, there are countless ways that a traumatic brain injury can impact a person's cognitive and physical abilities. But, it's just as critical that troubling emotional changes not be ignored. A TBI can cause disturbing deviations in behavior that can include aggression, restlessness, mood swings, lack of self-awareness, irritability, and lethargy. Therapy and rehabilitation can help with, not only the physical and cognitive challenges, but the emotional ones as well. Fortunately, help is available even if insurance won't cover it.
Traumatic brain injuries impact both the victims and their families, and can lead to cognitive, physical, behavioral and emotional challenges. But, understanding the location of the injury, and what functions the impacted areas affect, will go a long way in helping victims and their families understand, face, and conquer those challenges.