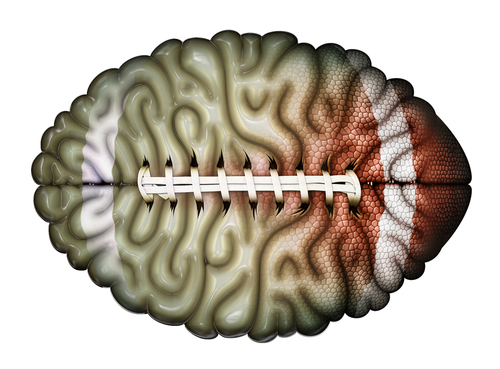 When San Francisco 49ers linebacker Chris Borland made the decision to retire in his prime, it once again called attention the risks of suffering a traumatic brain injury that professional athletes face when playing America's most popular sport. Many players are looking at the future and considering their health as more important than a career in professional football. A massive paycheck, at the end of the day, cannot balance out the health impacts that many of these athletes suffer later in life, or take place while playing the game. Borland felt that he didn't want to wait until he suffered symptoms to quit the game; that could be too late, and he felt that he would prefer to live a long, healthy life.
The NFL has been avoiding this issue, and has consistently downplayed the symptoms that athletes playing pro football face after repeat concussions. There was much research that revealed that players were susceptible to various health problems from repeated head trauma, and despite the research to the contrary, the NFL was responsible for funding a study that claimed that the sport did not pose any extraordinary risk to players, and has even blamed journalists for shining a light on the problem, rather than dealing with traumatic brain injuries as a real issue of concern that must be addressed and resolved.
The Impact on the Brain: Repeated Concussions
Findings released by Dr. Bennet Omalu in 2005, as reported by Frontline, revealed that the autopsy findings on Pittsburgh Steeler Mike Webster who passed away at the early age of 50 showed that he had the brain of a much older person. PBS reports that other autopsies on former NFL players clearly indicated that in 76 out of 79 cases, the players had evidence of CTE (Chronic Traumatic Encephalopathy, a degenerative disease of the brain associated with repeated brain trauma and concussions).
Whether the NFL finally admits to the problem and addresses it or continues to try to downplay that this is a serious issue of concern, it has become ultimately clear that sports professionals are at high risk of suffering serious health problems associated with the pounding they take to the head in tackling and being tackled. Children involved in sports are also at risk of such injuries, and parents would be prudent to discuss these issues with coaches and trainers before allowing a child to participate in a sports program that could endanger their health for the long term.