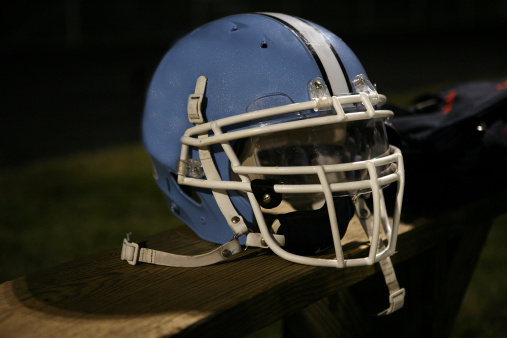 Would you let your child play football?
That's a hot question these days as information about long-term medical problems among former players in the National Football League continues to be emerge.  The NFL recently agreed to pay $765 million to settle a lawsuit brought by thousands of former players suffering neurological problems. The players claim that the league knew of the potential risk of brain damage due to repetitive concussions, but did little to prevent the injuries from occurring.
Some former players link their current medical conditions such as Parkinson's, Alzheimer's, Amyotrophic Lateral Sclerosis (ALS), and other neurodegenerative diseases to their football playing days.
The barrage of recent media coverage regarding the NFL lawsuit is shining a light on the dangers of the sport and making parents across the country wonder whether the risks are worth it.
Study Shows Higher Risk of Brain Injury
A recent study in the medical journal Neurology suggests that professional football players are three times more likely to have such conditions as the general population. The study, which appeared last year, surveyed nearly 3,500 retired NFL players who were in the league between 1959 and 1988.
The league has taken major steps in recent years to make the game safer for players, both in terms of equipment and protocol. In the past, though, when a player got his "bell rung" and stumbled dizzyingly to the sideline, he was sent right back into the game as soon as possible, exposing the player to further head injuries.
Obviously, there's a big difference between Little League and the NFL. The massive size, speed and power of players at the highest level is in no way comparable to young kids just picking up the sport in elementary school. You won't see the kind of violent collisions in Pee Wee games that you do on Monday Night Football.
On the other hand, there's also a big difference in the quality of protective equipment used by pros versus youngsters. Whereas qualified medical staff is always present at practices and games for college and pro teams, that's not the case for younger players.
Undeniably, football at any level is violent. To "shake off" on injury and get back in the game is seen as admirable.  That's just part of the culture of the sport —whether it's the New York Jets or a Pop Warner team in Columbia, South Carolina. Taping an ankle and limping back out there to the applause of the fans is one thing. Returning to the game once you've "shaken the cobwebs" after a blow to the head is an entirely different matter.
Football Remains Popular Despite Injury Risks
Most youngsters who play football don't sustain serious injuries, although almost everyone who plays long enough will get a little banged up from time to time.  It's hard for a parent to draw the line. Head injuries, however, aren't as easy to detect as a twisted ankle. A bruised brain poses a much greater risk for problems down the road.
Maybe youth leagues are safe but reservations start to creep in along about the junior high or high school level as the size, speed and power of the players increase. Regardless of the dangers, the sport remains a popular activity among young people. It is estimated that 3.5 million kids play in youth leagues and one million play in high school.
But how risky is it? A group of researchers in Virginia and North Carolina is hoping to shed some light on the subject, according to an article in Technology Review.  The researchers studied a high school team and two youth teams, including children aged 6-18, during a season. The researchers outfitted their helmets with accelerometers and more than 16,000 head impacts were recorded and measured during the 2012-13 season. Players were given pre-season and post season brain scans and neurological tests to review any changes in the brain. Results are still being analyzed.
Tools to Identify Players in Danger of Brain Injury
The researchers hope to develop tools to identify when a football player has been hit hard enough, or frequently enough, to risk a concussion or other brain injury.
The decision can be a tough one for parents. Most of us want our kids involved in extracurricular activities and believe participating on an athletic team builds confidence and discipline. We may wonder whether football is really more dangerous than soccer or skateboarding or surfing or driving a car or other activities. Many of us have fond memories of Friday nights under the lights and feel like a hypocrite denying the same experience to our children.
Still, keeping our children safe is a fundamental task as a parent. Each family must consider the pros and cons and make a decision that's right for their child.